Calculate Your Positive Impact
Switching to BioPak Makes a Difference
Enter your own numbers below or select some pre-selected scenarios to see the difference switching from regular plastic to BioPak compostable packaging can make. A simple switch can have a significant environmental impact.
Enter Your Quantities
Cafe
Restaurant Chain
Coffee Roaster
Fruit & Veg Producer
Event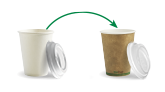 Annual Positive Impact
of an Average
of plastic avoided
And the
0
litres of oil used to make it
of carbon offset
That's equivalent to driving
0
km around
diverted from landfill
Creating
0
10kg bags of compost
Get in Touch and We Can Help You Realise This Impact
We will review your needs and work out a tailored plan to help you choose the right packaging for your business.
Compost Connect
Get connected to your local composter to divert your food and packing from landfill.